The Benefits of a Profile Listing with Instructors Directory
The 10 main benefits of taking advantage of a FREE profile on the directory
With so much competition out there amongst fellow instructors, trainers, tutors and teachers it's good marketing practice to ensure you are covering a variety of different avenues to attract new clients or students and this doesn't matter if you are a Personal Trainer in London, a Driving Instructor in Newcastle or a Maths tutor in Southend-On-Sea. One of these marketing avenues which is generally either FREE or comes at a very minor cost are directory websites. These have been around since the start of the World Wide Web and have always been a place where you can find a list of websites organised in either a hierarchy or interconnected list of categories. Directory websites that relate to your type of business can offer a number of advantages; some of these I have listed below.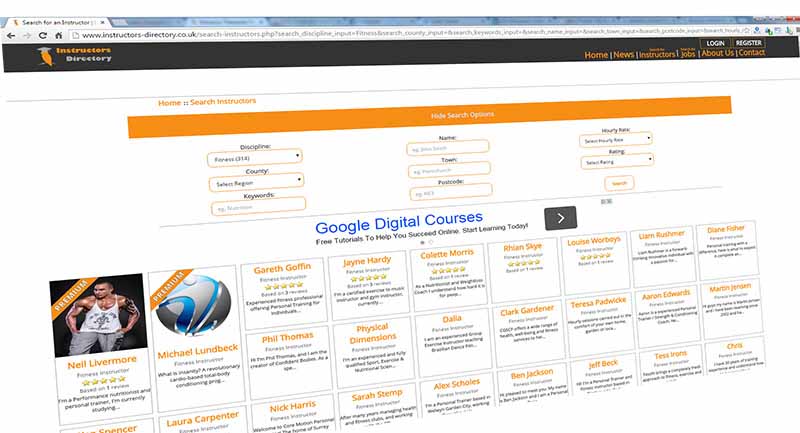 Build Brand Awareness - If you place your website on a number of directory websites that relate to your type of business and you include your business name plus where possible your logo, then you will actually be building up your brand awareness. This is because even if people don't visit your website, if they are looking through a number of directories and seeing your business listed then they will be more likely to recognise your name or logo and be more likely to check out your site.


Inexpensive Advertising Publicity - Most directories are free to create a listing/profile or they may support a tiered system where you can upgrade from free to a premium service for a monthly/yearly fee and this then gives you additional features or tools. To determine if it is worth upgrading you will need to review each directory website to see if the cost of upgrading is worth the potential benefits.


Become More Visibility in Search Engines - Some directory websites have been designed to allow your profile to be indexed by search engines. This means it could act as another webpage that your potential clients/students could find. Some directory websites may even offer additional tools to help boost the profile page to increase it's chances of appearing on the first page for certain key words or phrases.


Creates Valuable Links to Your Website - There have been a range of different search engine optimisation (SEO) techniques that have come and gone over the years but obtaining links that point to your website still remains ever vital. These incoming links are one of the key factors that Google uses to decide whether your website is important and relevant. Getting listed on most directories means you will get another incoming link to your website. This is doubly good as it is coming from a contextually relevant website, a website that relates to the purpose of yours.


Direct Traffic - More and more people are looking towards online directories to help find products or services that they have a need or interest for. 'Direct Traffic' is when one of these people clicks through to your website from your listing.


Control - You are able to control the content of your profile, you have the ability to change or add any content whenever you want. This can't be done with a printed directory.


Customer Reviews - Not all directory websites will offer this benefit however, most of the top quality ones will. The advantages of having online reviews is massive, they can be the deciding point for a customer as to whether they go ahead with a purchase or not. Each review could be considered a form of advertising as these will be exposed to readers increasing their awareness of who and what you offer.

Reviews can also influence search engine results. With Instructors Directory for example, profiles are given a higher rating if they have reviews against them. The more reviews they have, the more of an effect they can have.

A lot of research has been done on online reviews and the general result is that clients/students are more likely to trust reviews from their fellow peers than that of advertising. One of these surveys was conducted in 2009. It involved 25,000 internet consumers from across 50 countries. The results showed that 90% of these would trust recommendations from people they knew and a massive 70% trusted reviews posted online. This highlights every review you receive you are boosting your online marketing.
Including the above there are a number of additional advantages that could be had when creating a profile with Instructors Directory. These include;
Access to a Review Widget - Firstly what is a widget? Wikipedia states "In computing, a web widget is a software widget for the web. It's a small application with limited functionality that can be installed and executed within a web page by an end user."

The Review Widget has been designed to help maximise review submissions from your website. The widget can be embedded into your own website and depending on what version you select can show an assortment of details, even including some of your previous reviews. As mentioned previously reviews can be extremely beneficial.

Support is on hand should you need help setting up the Review Widget to work on your website.


Vanity URL - What? Why? A Vanity URL simply put is a URL that has been associated with an identity or an online presence.

These Vanity URLs have become an important part of any sophisticated online user or company's presence. This is because they are always associated with identity, which means they can influence search engine optimisation (SEO) and make it easier for people to find you. . It's always best to avoid being put in a position where someone else has hi-jacked your brand name and claimed it as their own.

If you are a small business then these should play an important role in your online media strategies as these will greatly improve your branding across the web.


Unique Search Results Algorithm - I have always been a true believer in that those who put in the effort should be rewarded more than those who haven't. This has been carried across to how Instructors Directory presents results from any search request. Every profile is given a ranking value depending on how much detail can be found on the profile, including its quality. Some key aspects that affect this ranking value are reviews, profile picture, keywords and whether the instructor has chosen to upgrade their profile to premium status. This means when you run a search you will find the profiles at the top with more information, more details for you to really look into and get a feeling for the instructor and whether this is someone you would want to work with.


To conclude, if you are looking to boost your online presence, improve your own websites ranking, attract more clients/students, get more online reviews then look into getting registered on directory websites, not only Instructors Directory but as many directory websites that relate to what you do.
Posted By: Mark Posted On: 02-Dec-2015